Driver Simulators NZ
About Driving Simulators in NZ
In 2010 the first 2 Eca car driving simulators were imported from France to add to thousands used around the world.
Like the rest of NZ, we were seeking a solution to so many senseless road deaths. We still believe that the answer lies in increasing the standard of training for all drivers. Over nearly 10 years as trainers we have seen the standard of drivers increase in the areas where we work. Testing Agencies can tell our students by their driving competency from the general population.
‍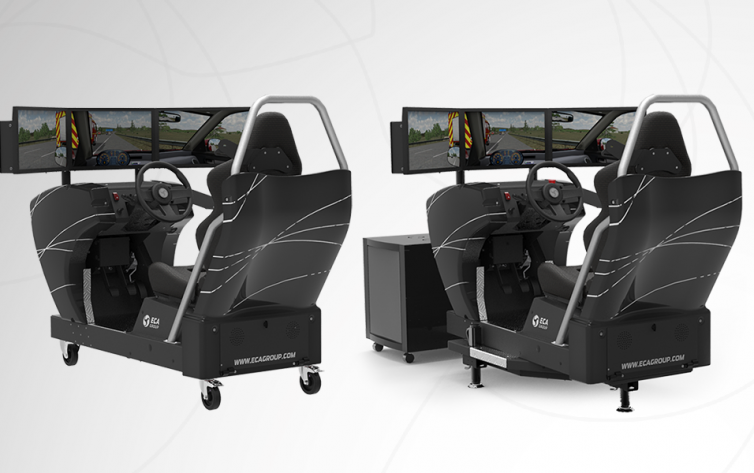 We use a holistic training system and teach to the individual and students are ready when they take personal responsibility for their choices and actions as well as their skill level. We can show students why things should be done or why accidents occur and practice hazard avoidance from the start of training. Our drivers can drive in any situation and traffic density, any weather and have practiced hazard awareness and avoidance until the responses are automatic. The use of the Eca driving simulator is the only possible means to provide all these options and it does not matter where you live as the simulators are portable in a training trailer and have travelled to many parts of NZ over the last 10 years for use at Road Safety Campaigns, schools & work places.

Eca modified the simulators and programs to right hand drive (although we can also use the left-hand drive program for Kiwis learning to drive on the other side of the road). The roads are standard International roads with modified NZ signs & road rules. The simulator can train in automatic & manual transmissions, in several languages, it instructs visually, verbally and with actions to suit all learning types and abilities. Eca are manufacturers for Air Bus flight simulators, Truck & Bus simulators, Defense Force Simulators & Robotics, Emergency Services simulators, Port simulation, Motor Bike simulators. They have been the world leaders in this for 30+ years and partner with researchers to develop and improve their products. We are proud to be the agents for their products in New Zealand as well as use their simulators in our driver training business, Excellence Driving Academy.

As simulators are used in so many industries, why did we not use them in NZ for classes 1-6 driver training? Simulators teach to the perfect standard. There is no room for the typical kiwi "she'll be right" attitude when acquiring skills to drive around a 2+ ton weapon on the road.

With approximately 14,000 new drivers involved in accidents each year, their lack of skills and experience are no longer an excuse when simulators are available.

Eca simulators are all fully instrumented, with pedals, steering wheel & large screens to display the simulated surroundings for maximum realism. Research tells us that these simulators are the most effective when training skills and safety to new drivers.

Non- instrumented or PC based programs cannot teach automatic responses in an emergency. US research shows that these simulators teach students 3x faster than on road only trained peers but most importantly they are up to 66% safer in the first 2 vulnerable years. Eca have hazard awareness and safety training. This was developed with Nottingham University Accident research based on the top 20 causes of accidents. Eca made this into a program for the simulator to provide all drivers with training to increase scanning and reactions to hazards in 100% safety. Many of our students have told us that they have come across situations when driving and believe their training saved them from serious harm & involvement.

Eca simulators provide the driver with 300 km of roading in a variety of locations and variables to provide all driver a realistic response to these variables.

●  Small town
●  Country & open roads
●  Mountain pass
●  Big city
●  MotorwaysTraffic density-none, medium & high density
●  Weather- sun, rain, fog, ice & visibility variables
●  Darkness Training (used in Finland as part of training & the licensing test)

●  Eco Driving to improve fuel efficiency & reduce vehicle maintenance costs
●  Hazard Awareness & Safety training
●  Different vehicles & engine sizes
●  Variable steering & braking aids to increase realism
●  Variable tyre condition & pressure for individual wheels to simulate the effects
●  How a load effects driving (eg passengers, roof load)
‍
No matter where you live in NZ there is no excuse not to be fully skilled as a driver and be able to drive competently and confidently in any situation. All of this taught in 100% safety with less anxiety so the information can be learned easily and retained between lessons. Modules can be self-managed by the student and each module requires a skill-based test be completed before moving onto the next lesson. After all modules are completed there is an assessment drive (with print out of errors) to provide feedback to students, instructors or teachers on the driver's adherence to road rules, essential road craft & skills. There is no bias or an instructor missing an error due to distraction.


Commercial H&S Training
The simulators are ideal for assessing commercial drivers and when combined with the Hazard Awareness module it is a great tool for employers to meet their on-going obligations under the H&S at work Act 2015.

We design half day or day programs with a joint staff discussion & learning followed by individual assessments & corrective training to suit your company budget. With the simulators being portable we are able to go to the commercial site to reduce their staff downtime and a more relevant day.

Our Class 1 Training results using the simulators 2010-present.

The simulators have been used as a base for all training programs:
‍
●  New learner's skills
●  Driving assessments of more experienced drivers
●  Hazard & Safety AwarenessTraining
●  Manual transmission conversion
●  Night driving skills
●  Motorway driving
●  Passing safely
●  Big City driving with heavy traffic

Typically, brand new drivers are ready to sit their restricted licence in approx 10-/+ lessons, with first 6 in the simulator covering all the skills & hazard training before going on road. It is usual for 3-4 road lessons to complete training prior to sitting the Restricted licence Test.

NZ has an average of around 55% pass rate first time for test. It is not uncommon in the Manawatu (with a 43% pass rate) for students to sit multiple times (even with professional help). Since 2010, the Excellence Driving Academy pass rate has remained at around 95+%. A slightly reduced rate can be expected if the full system has not been used. 

These results have resulted in the testing agencies in our locations to be double audited. No discrepancies were found. Testers have told us that our students clearly have a higher skill base sooner and it is not uncommon for them to pass with 100%.

The use of simulator has proved invaluable when training students with disabilities like severe anxiety, depression, Post Traumatic Stress Disorder, dyslexia, dyspraxia, Autistic Spectrum disorders, stroke rehabilitation, to name but a few. We have been involved in the alternate education programs to ensure the students have a driver license by the time they leave school. 80% of NZ employers require job applicants to have at least a restricted license, regardless of whether the job involves driving.

Class 2-5 Training

NZ has a severe shortage of commercial truck drivers, with the average age of drivers in their mid 50's. The shortage is going to be difficult to reverse with the current techniques of training used by the industry.

Having been a truck driver I was keen to use the Eca Truck simulator in France and was very impressed by the realism of the training and can see how learning in an enjoyable & stress-free environment makes for superior drivers.


●  Full motion platform.
●  Huge screens to replicate a realistic environment over hundreds of km's of roading.
●  Life size cab with full instrumentation.
●  Learning skills to a perfect standard.
●  Upskilling from one class to another in a 100% risk free environment.
●  Managing increased size, weight and transmissions.
●  Backing a truck & trailer unit up against a dock.
●  Safety and hazard awareness training modules.


●  Variable weather conditions, and wind interference driver training.
●  Lower costs due to faster training with a higher standards in new truck drivers.
●  Lower fleet maintenance and insurance means more trucks on the road.
●  Increased fuel efficiency.
●  Higher company profits.
●  Safer drivers on NZ roads.
●  On-going simulator assessments and training to meet employer obligations under The H&S at Work Act 2015.
If you want the best fleet of drivers on the road in New Zealand, ask us about a training simulator to make it happen.

Motorcycle Training

●  A motor cyclists and trainer's dream come true
●  Learn to ride a geared motorcycle in a 100% risk free environment but providing all the skills to ride on any road type to keep yourself as safe as possible on NZ roads.
●  City, country, hills, motorway, day, night, sunny, raining, fog, ice, heavy traffic conditions
●  Upskill to a bigger/ more powerful motor bike in safety
●  Become a defensive rider with the hazard & safety training modules
●  Easy conversion to road training on an actual bike.

Scooter Training

●  A scooter is an affordable means of independence for young people but without adequate skill training it can be fatal.
●  Especially as many young people frequently haven't ridden a push bike on the road
●  Fully portable, the scooter simulator folds into a suitcase for in the back of a car.
●  Training can be done prior to purchasing a scooter
●  Be a skilled and defensive rider from day 1 on the road
●  Learn to ride in various roading, weather & traffic conditions